*I started this post in November when we returned...and am just now posting it. Whoops. :)*
We're back from our whirlwind, yet relaxing babymoon to Florida! Drew is ever the vacation planner (seriously, if you need someone to plan a fantastic vacation, call him) and we had such a good time!
We flew into Fort Lauderdale on Thursday evening, checked into our sweet hotel and headed out for a late dinner of (what else?) Mexican food. Drew researched restaurants around the area and the place got great reviews! It looked like a long standing dive; it had to be good, and it was!
We woke up the next morning to drive down to the Keys. Drew planned on stopping in Miami to check it out. The beach was gorgeous, a little windy, but the water was beautiful!
We had breakfast at the 11th Street Diner, which has apparently been on the Food Network. It was a fun experience, but the food was only okay. :)
We spent the night in the Keys, only to wake up to wind, rain and a forecast for much of the same. Drew had planned on hitting several different beaches during our stay...and that's it. We decided we could sit in the condo all day OR change our trip completely. We found the local library and booked a hotel in Orlando, where the sun was shining!
Before leaving, we headed down to Key West, just to go. We had lunch at the Southernmost Beach Cafe, which I'm pretty sure is the southernmost restaurant in the US.
Since we were in the Keys, we decided to try some Key Lime Pie. And we didn't like it. :)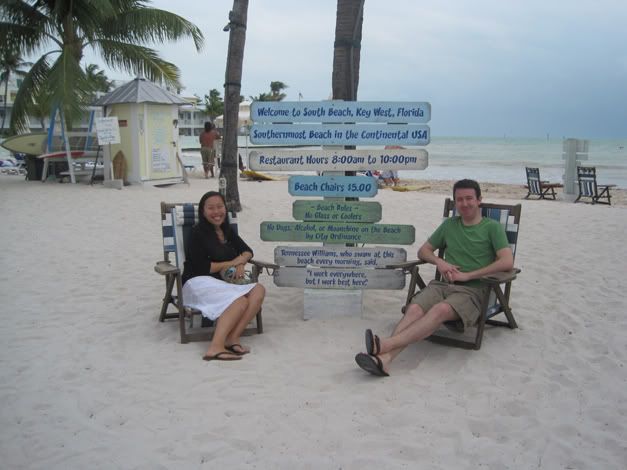 On a sunny day, you can see Cuba from this point!
Redundant much?
The drive to Orlando took about 6 hours and we got there late Saturday evening, crashed in our hotel and slept great. The next day, we were determined to get some rays at the beach. We headed to Cocoa Beach where it wasn't raining, but the wind was still killer! We stayed for about 30 minutes and decided to stop trying to be brave. (I did, however get to dig a hole in the sand for my belly to fit in - it was so nice to lay on my stomach!)
Apparently, the world's largest McDonald's is in Florida. They have a full arcade and play area, plus a gourmet menu. Weird. We didn't eat there, but I did get to pee in one of the most unique McDonald's in the world.
Before we left Orlando to come home, we just had to visit Universal and Disney. We went to Universal for dinner at the Hard Rock Cafe and ended up seeing a crap movie, but it was fun. The next day, we went to Disney.
Since I can't ride anything (literally), we didn't even buy park admission. We rode the free tram from park to park and then the ferry from parking to the Magic Kingdom twice. Man, we know how to vacation :)
It was a lot of fun talking about bringing our kids to Disney one day and dreaming about our upcoming family. I didn't realize how much Drew and I had been lacking in quality time! We came back relaxed and happy. It was a great trip to commemorate our last big splurge as 2. The next time we see Florida, we're bringing more Ackermanns. :)